Final grading 2022
My what a quick year that was, the final grading for 2022 is finally here! A bit of normalcy returned and we had quite a busy year, but it has been successful, as is evidenced by the huge growth in you, the students this year.
The Kung Fu grading exams are another chance for you to show what you have learnt and for you to check off that next goal in your pursuit of excellence through the world of martial arts.
The grading examinations include striking techniques (Da 打), paired sequences (Chángguī 常规), board breaking techniques (Dapo 打破), combat sparring (Sanshou 散手), and the traditional routines known as Taolu (套路). Students are assessed in each category as part of their grading criteria. Our robust curriculum sets the requirements, standards and expectations for the grading examinations.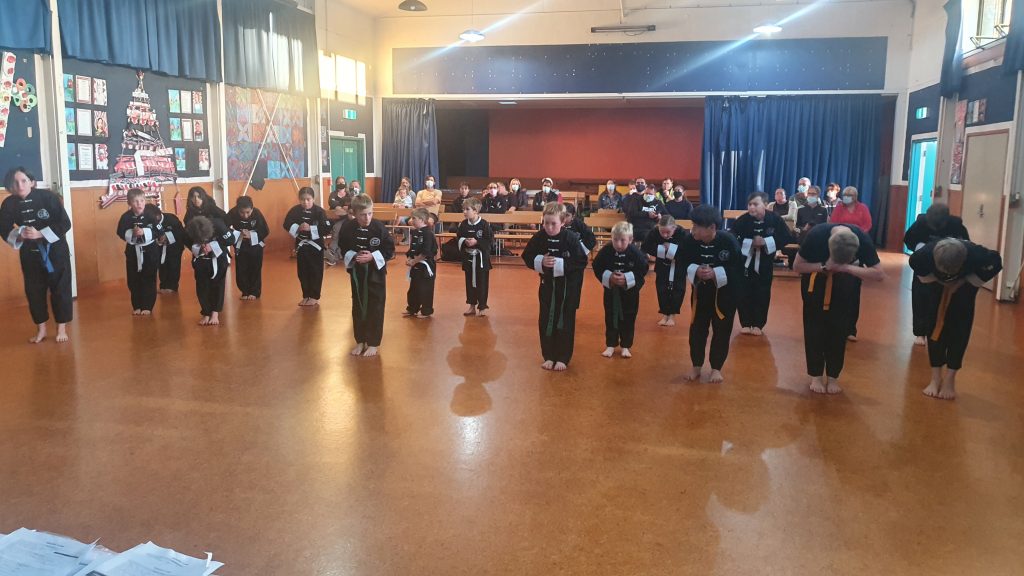 Information for New Students
Some of the requirements to be eligible for grading is that students must be registered and have a full Gi before participating. After learning their curriculum material, students will participate in mock examinations. If students pass the mock exams, their Instructor will issue them with a grading form.
GRADING DETAILS
Details for the December 2022 Kung Fu grading are as follows:
When: Friday 09 December 2022, Kids from 5.30pm, Adults from 6.30 pm.
Where: 38 Kipling Street, Roslyn, Palmerston North – in the Roslyn School Hall.
Dress: Full traditional uniform (Kung Fu Gi and belt).
What to do: Show up at your allotted time and take the correct exam applicable to your rank. Make sure you have your sparring gear (where applicable).
How: Practice your grading material, show us your stuff, get a grading form, return it to us complete.
Excluding black belt grades, there are 20 rank levels in the Kung Fu Academy NZ. This requires a minimum of five years training to achieve the rank of black belt. Our curriculum challenges students in physical, mental and spiritual aspects. It requires great dedication, discipline and concentration to succeed.
Good Luck and we'll see you on the 9th December!
Need Extra Tuition?
If you require extra training because you think you might struggle with your grading exams, fear not! We offer private grading lessons to help you through your troubles. It usually takes one session and then you are good to go – all you need to do is listen, learn and practice what we show you. Book your private grading lesson by calling or texting us on 0211748860.