FEEL HEALTHIER AND MORE ENERGETIC IN 2021 WITH BEGINNERS KUNG FU
Improve your health and well-being in 2021 with Kung Fu for beginners at the Kung Fu Academy! Our aim is to empower you to achieve excellence through the world of martial arts. By joining our martial arts classes, you'll feel more energetic, you'll have greater belief in yourself and you'll be able to reach your goals faster.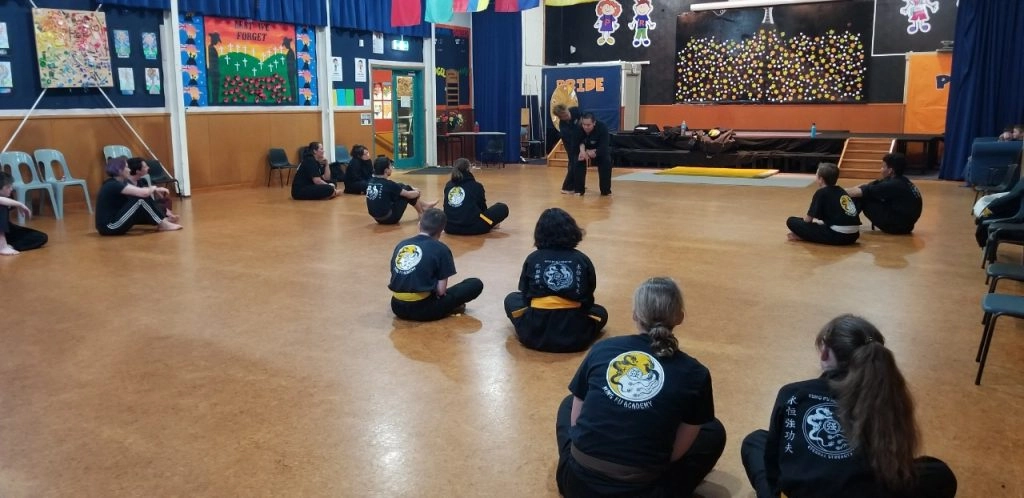 Martial arts have the benefits of improving physical, mental and spiritual health and well-being. You have the benefits of physical fitness activities and techniques that will challenge you to use muscles you never knew you had! We target strong minds and the wide variety of technical teachings and the constant challenges we put to you will exercise your brain and give you that laser like focus, leading to a healthier mind, giving you that mental strength to take on life's challenges. The improvements you will see and the belief we will put in you will give that spiritual balance and give you the power to succeed.
SPECIAL OFFER
We are running a special offer to help you get started on the winning path in 2021. All you have to do is sign up with us for term one and we'll throw in membership registration and a training t-shirt worth $100 absolutely FREE. This special offer is limited to TEENS and ADULTS only, that is all persons aged 13 years and over. The offer expires Thursday 11 February 2021. This offer is not available to kids aged 12 and under.
Our belief is that you have the potential to achieve anything you put your mind too. Let us help you achieve excellence by training your body, mind and spirit to handle the challenges that life throws at you!
HOW DO YOU GET THIS OFFER?
Click the link
Fill out the form and send to us for processing
Pay the term fee
Come and train for the entirety of term one. Quote BEGINNERS 2021 to our Instructors.
We are located at: 38 Kipling Street, inside the Roslyn School hall in Palmerston North.
When: Our classes are every Monday and Thursday from 6.30pm – 8pm.
What to bring: Yourself, in training clothes you don't mind sweating in, with a drink bottle and a can-do attitude!
How much: This special offer is priced at $200.00 per person. This includes 14 weeks of training valued at $280.00 and you get FREE membership registration valued at $50 and a FREE training t-shirt valued at $50. That's a saving of $180.00 or 47%!!!
Don't delay, book in your sessions today. This offer expires 11 Feb 2021 so be in quick to grab your deal today!!!
Want to pay now? What are our payment options?
If you want to pay now, you can via Direct Credit through Internet Banking or direct through Paypal. Details as follows:
Internet Banking: $200.00
Account Number: 01-0755-0438908-00
Reference: Beginners 2021, Your Name
Paypal: $200.00
Address: [email protected]
Reference: Beginners 2021, Your Name
You can also claim this offer by cash, credit card or Eftpos direct to us in class. Don't delay, do it today!